Gold falls on Fed rate hike indecision
published : 20 Aug 2016 at 10:37
Gold prices dropped 50 baht to 22,050 baht per baht-weight in Bangkok on Saturday.
The Gold Traders Association announced the buying price at 21,950 baht and the selling price at 22,050 baht per baht-weight for bullion.
For ornaments, the buying and selling prices were 21,557.52 baht and 22,550 baht per baht-weight respectively.
The local prices ended unchanged on Thursday on Thursday.
Bloomberg reported from New York on Saturday the split among Federal Reserve officials on whether to boost US borrowing costs is whipsawing gold again.
Futures gained on Thursday, a day after the July Fed minutes were released showing policy makers are divided on rates, only to swing to a loss Friday. Comments from Fed Bank of San Francisco president John Williams after gold futures closed on Thursday revived the bearish sentiment on the precious metal, paring this week's gains.
The rally that sent gold to its best first half in almost four decades is slowing amid signs the US economy is resilient enough to face an increase in interest rates, despite risks to global growth. Fueling that speculation are voices from policy makers who favour the rate hike, including Mr Williams and New York Fed president William Dudley. Their comments boosted the dollar, curbing the appeal of commodities for holders of other currencies.
"Today, gold suffers from Fed indecision, pulled down by higher rate outlook fostered by many Fed speakers" George Gero, a managing director for RBC Wealth Management in New York, said in an e-mail. "We need higher open interest, higher closes, higher moving averages to attract asset allocators."
Gold futures for December delivery slid 0.8% to settle at $1,346.20 an ounce at 1.39pm on the Comex in New York, paring this week's gain to 0.2%.
Mr Williams said Thursday it makes sense to get back to a pace of gradual increases, preferably sooner rather than later. On Tuesday, Mr Dudley said the Fed could potentially raise interest rates as soon as next month, while Atlanta Fed president Dennis Lockhart said he's confident that US economic growth is accelerating, setting the stage for at least one increase in interest rates this year.
"The market remains very twitchy around anything that relates to the Fed," said Neil Meader, an analyst at Metals Focus Ltd in London. "This period of consolidation we've seen in prices is a reflection of the lack of clarity on when the next increase will occur."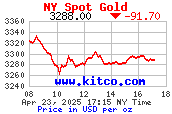 Do you like the content of this article?