Gold prices steady at B18,950
published : 25 Oct 2014 at 10:25
Gold prices were unchanged at 9.10am on Saturday.
The Gold Traders Association announced the buying price at 18,850 baht and the selling price at 18,950 baht per baht-weight for gold bars, the same levels as on Friday.
The buying price for gold ornaments was 18,571 while their selling price was 19,350 baht per baht-weight.
In world markets, gold rose from the lowest in a week as the dollar declined, boosting demand for the precious metal as an alternative investment.
The dollar dropped for the first time in four days against a basket of currencies as an Ebola diagnosis in New York crimped risk appetite. Gold slumped 8.4% last quarter as the greenback posted the biggest jump since 2008 and equities surged to a record. Global holdings in exchange-traded funds backed by the metal dropped to a five-year low on Wednesday.
Bullion rebounded from the year's low reached on Oct 6 after the Federal Reserve cited slowing overseas economies as a risk to US expansion. Those concerns prompted traders to push back estimates for an increase in interest rates by the Fed. Treasuries rose as the Ebola case highlighted concern that spread of the virus threatens the global economy further.
"Today's upward move is all about dollar reacting to Ebola fears in New York," Tom Power, a senior market strategist at RJO Futures in Chicago, said in a telephone interview. "The long-term price direction will be all about what the Fed does next."
Gold futures for December delivery added 0.2% to settle at $1,231.80 an ounce at 1.47pm on the Comex in New York. Prices reached $1,226.30 yesterday, the lowest since Oct 15, and are down 0.6% this week. Trading was 26% below the average for the past 100 days for this time, data compiled by Bloomberg show.
Fed policy makers are scheduled to meet on Oct 28-29.
Rising rates reduce the metal's allure because the commodity generally only offers returns through price gains. Assets in gold ETPs have dropped 5.9% this year after plunging 33% in 2013, according to data compiled by Bloomberg. Money managers cut their bullish futures and options Comex bets in eight of the past nine weeks.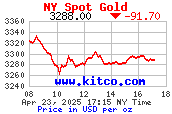 ---
Do you like the content of this article?