Gold steady at B19,150
published : 20 Jun 2015 at 09:44
Gold prices were flat at its opening on Saturday.
The Gold Traders Association announced the buying price at 19,050 baht and the selling price at 19,150 baht per baht-weight for gold bars.
For ornaments, the buying and selling prices were 18,768.08 baht and 19,550 baht per baht-weight respectively.
The prices were unchanged from Friday, when they rose 100 baht from the previous day.
In world markets, Bloomberg reported from London and Singapore the precious metial headed for a second weekly advance after efforts to secure a Greek bailout faltered and the Federal Reserve signalled gradual interest rate increases.
Bullion was poised for a 1.8% climb this week, the biggest in a month, after Fed chair Janet Yellen said on Wednesday she wants to see more decisive evidence of economic growth.
Greece moved closer to an exit from the euro as finance ministers failed to reach a deal over aid on Thursday, prompting an emergency summit of European leaders to be held on Monday.
"Gold is primarily moving on the dollar, with rates expectations in the US the main driving force," Carole Ferguson, an analyst at brokerage SP Angel Corporate Finance in London, said by phone. "There is the Greek scenario in the background, but gold hasn't reacted to that very much so far."
Gold for immediate delivery added 0.1% to $1,202.65 an ounce at 12.42pm in London, according to Bloomberg generic pricing. The price reached $1,205.80 on Thursday, the highest since May 26. Gold for August delivery was unchanged at $1,202 on the Comex in New York, where futures trading volume was 28% below the 100-day average for the time of day.
The Bloomberg Dollar Spot Index, a gauge of the greenback against 10 major counterparts, gained 0.3% on Friday while still heading for a second weekly drop.
Investors increased holdings in gold-backed exchange traded products for a third consecutive day, adding 0.3 tonnes as of Thursday for the longest run of gains in almost seven weeks.
Greek reserves
Greece is unlikely to resort to selling its gold reserves because disposing of the hoard, valued at about $4.3 billion, would only postpone a default, according to Commerzbank AG. For Greece to use gold to pay the International Monetary Fund the 1.5 billion euros ($1.7 billion) it owes by the end of the month, it would mean selling about 40% of its gold reserves.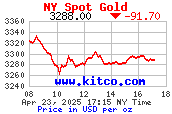 ---
Do you like the content of this article?