Gold falls B50 on renewed Fed rate hike concern
published : 31 Oct 2015 at 09:55
Gold prices dropped 50 baht to 19,350 per baht-weight in Bangkok on Saturday.
The Gold Traders Association announced the buying price at 19,250 baht and the selling price at 19,350 baht per baht-weight (15.16 grammes) for bullion.
For ornaments, the buying and selling prices were 18,965.16 baht and 19,750 baht per baht-weight respectively.
On Friday, the prices were adjusted once, down 200 baht from Thursday's close.
Bloomberg reported from New York on Saturday that gold posted the biggest weekly decline since August amid renewed concern that the Federal Reserve will raise interest rates in December.
Fed policy makers signalled they're still considering tighter monetary policy for this year, surprising many gold investors who had been buying on speculation that a spate of uneven US economic data would keep rates low for longer. Fed-fund futures show 50% odds of a rate increase in December, up from 36% a week earlier.
Bullion fell for the past five quarters amid signs the US economy may be resilient enough to weather a global slowdown and the first rate increase since 2006. Higher rates curb the metal's appeal because it doesn't pay interest. While a report on gross domestic product Thursday showed the US economy pulled back in the third quarter as companies cleared out inventories, it also indicated buoyant consumer and business spending.
Gold fell after "the very hawkish statement from the FOMC and the GDP report, which had pretty good underlying details," Mike Dragosits, a senior commodity strategist at TD Securities in Toronto, said in a telephone interview. "Our view is that gold and silver are heading lower as we head into December."
Gold futures for December delivery slipped 0.5% to settle at $1,141.40 an ounce at 1.43pm on the Comex in New York, after touching $1,138.40, the lowest since Oct 9. Prices dropped 1.8% this week, the most since Aug 28.
Economic growth slowed to a 1.5% annualised rate in the third quarter after a 3.9% pace in the previous three months. Had it not been for the biggest inventory swing since 2011, the economy would have expanded 3%. A separate report on Thursday showed initial jobless claims near a four-decade low.
"The real US economy isn't weak, which places pressure on precious metals," Huatai Great Wall Futures Co said in a note on Friday. The data "support the Fed's view that the economy is expanding at a 'moderate' pace."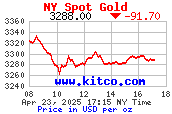 ---
Do you like the content of this article?